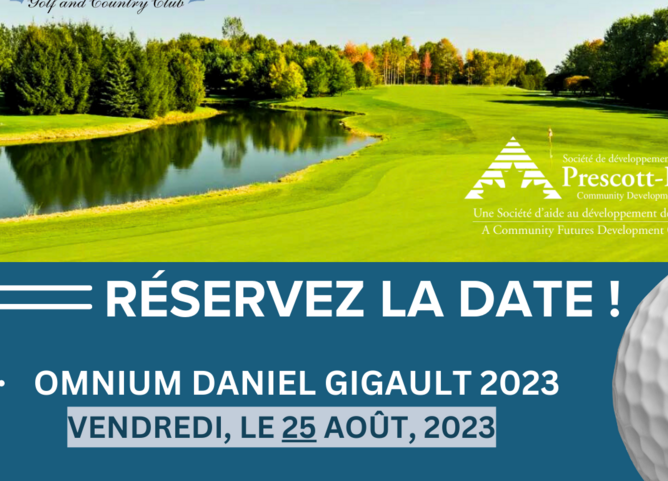 PRCDC's annual golf tournament
The Prescott-Russell Community Development Corporation (PRCDC) invite you to the annual PRCDC golf tournament, Daniel Gigault Open on August 25, 2023 at the Casselview Golf & Country Club, 844 Aurèle Rd., Casselman ON

BREAKFAST ND REGISTRATION BEGINNING AT 7:00 AM AND SHOTGUN AT 9:00 AM
All participants are invited to organize their foursome. It will be our pleasure to register individual players to incomplete teams.
Only $125.00 per player (taxes included)
Includes golf, golf cart, breakfast, buffet lunch, gifts and more gifts!

TO SPONSOR
Take advantage of the great exposure at the Daniel Gigault Open by sponsoring a hole for $125:
your business name and logo on our social medias;
your business logo on a sign at one of the holes;
your business name and logo on the golf brochures handed to every player;
you business logo on a continuous presentation at the hall's televisions;
special mention of your sponsorship during the event's gift giveaways and speeches.
Gift sponsors are also accepted with same visibility except the sign at a hole
Click
HERE
to register your foursome and/or sponsor